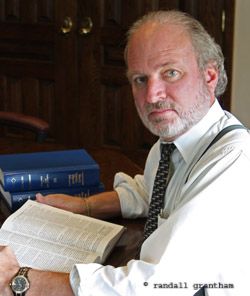 Randall C. Grantham
Attorney at Law
Randall Grantham was born and raised in Lutz and still lives on the same lake he was raised on. He spent his youth working and playing in the cow pastures and citrus groves throughout the area.
Randall attended Lutz Elementary School and was the last year to actually have classes in the old two-story building by U.S. 41, where he attended 5th and 6th grades.
He attended Buchanan Junior High and Chamberlain High School before going early admission to the University of South Florida and skipping his first year of college via the CLEP Test. During college and the break between law school, he sold real estate with his mother, Helen B. Grantham, who was a long-time Realtor in the area.
He attended law school at the University of Florida and graduated in 1980 after interning in the Public Defender's Office in Jacksonville.
He worked for four years in the Jacksonville Public Defender's Office after graduation and then came home where he worked for two years as a Public Defender in Dade City representing serial killer, Bobby Joe Long in the first tried of nine murders committed in the Tampa Bay Area.
Notably, the Motion to Suppress, presented by Mr. Grantham was denied at the Trial Court level, but reversed unanimously by the Florida Supreme Court and eventually resulted in Bobby Joe being discharged from prosecution on that case. (No worries, he was serving several hundred years on related cases and received the death penalty on the other homicides in Hillsborough County).
He went into private practice in 1987 and sole practice in 1993, where he has continued to represent citizens accused of crimes.
In his spare time, he enjoys photography, fishing, scuba diving, and relaxing on Lake Hobbs. He also enjoys cooking and traveling as time allows and, after over 40 years of practicing criminal defense law, continues to do so because he enjoys representing citizens accused of crimes and upholding the rights of the underdog.
University of South Florida, Bachelor of Arts in Accounting

University of Florida Law School, 1980
Florida, 1981

Hillsborough County Bar Association
Hillsborough County Associations of Criminal Defense Lawyers -(NACDL, FACDL & HCACDL)